Empowering women entrepreneurs
/ Blog + Insights / 24 May 2022 / Katie Hickmer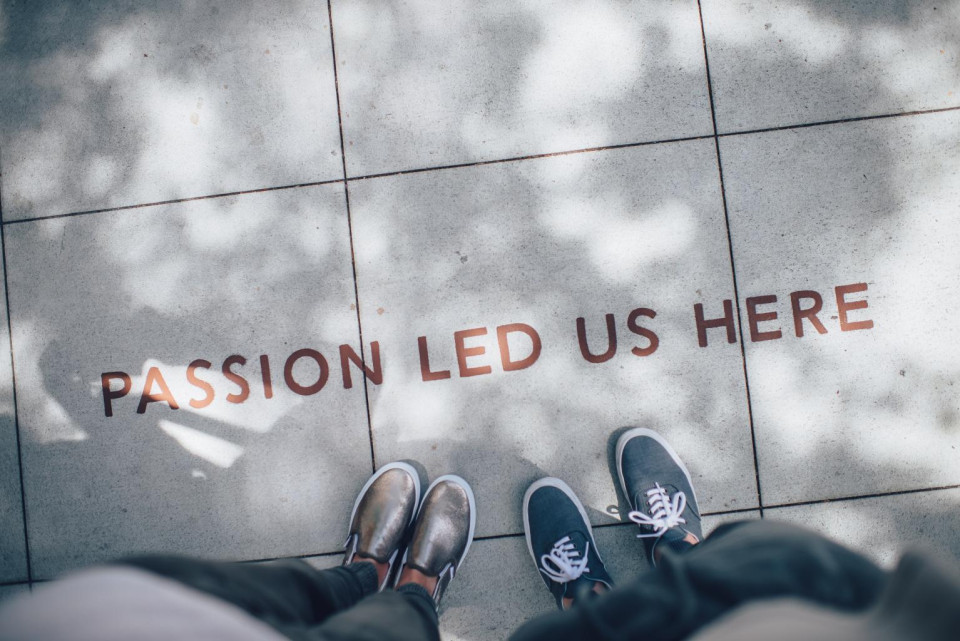 Aotearoa is a beautifully diverse nation of culture, demographics and can-do attitudes, and we'd like to shed some light on the many initiatives that are supporting one group in particular .. our women entrepreneurs.
Ranked second place (globally) in the Mastercard Index of Women Entrepreneurs 2021, women in New Zealand continue to make firm strides in business, propelled by "supporting entrepreneurial conditions" (rank 1, score of 78.4) and "quality of governance" (rank 1, score of 97.7). This report recognises the support of women entrepreneurs and business owners throughout New Zealand, and shows an impressive jump from fourth place in 2020.
As a nation, we continue to make progress in terms of resources, a diverse choice of funding options, programmes and networks designed to encourage and boost female entrepreneurship. However, finding this information can be difficult, so we've compiled a list of support and resources that are available and on our radar (Know of more? please let us know HERE).
In the following blog content, you'll find a comprehensive (but not exhaustive) list of women-focused resources available to Kiwi entrepreneurs. A list for wider New Zealand start-ups can be found here: New Zealand Startup Resource List: 450+ Accelerators, Incubators, Investors, and more (fi.co)
Read on to learn about to following resource categories;
Capital (Accelerator, Grants, Angel investment, Venture capital)

Capability building (Leadership, mentorship, coaching, training)

Community (Advice, events, networks, support)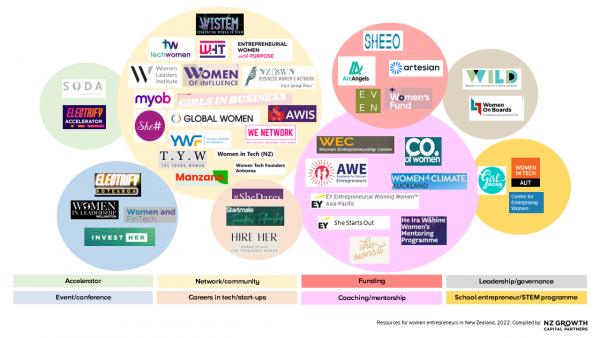 Capital (Accelerator, Grant, Angel, Venture Capital)


ArcAngels is a member-based angel investment organisation focused on building investor knowledge and dedicated to investing in early-stage businesses that are led or managed by women across New Zealand. In April 2022, it had raised $5m of its $20m target and signed on businesswoman Theresa Gattung​ as a cornerstone investor, with the plan to invest in up to 50 women-led start-ups in the next four years.
Asia Pacific Alternative Investment Management firm, Artesian, established its first New Zealand office in Auckland with the launch of their $100 million Female Leaders VC Fund. The fund has attracted $45m of cornerstone investment from Australian industry super funds, Hostplus and legalsuper, and will exclusively target Series A and B rounds of high-growth female-led ventures across the Asia Pacific, with New Zealand being a key region of focus.
In February 2022, Ministry of Awesome announced the launch of Electrify Accelerator for women entrepreneurs seeking to turbocharge the growth of their business concepts. Electrify Accelerator is a a programme that we proudly back as it brings together some of Aotearoa's most experienced venture capital firms, start-up founders and mentor teams to deliver a competitive, 12-week programme for women and non-binary led start-ups. The 2022 cohort kicked off in May 2022.
Launched in 2021, Even Capital is the brain-child of successful New Zealand entrepreneur and investor duo Anna Stuck and Sarah Park. Inspired by their own observations and experiences as influential women in the business and investment world, Even Capital is at the forefront of female-founded, female-funded and female-focussed capital fund investment for growth-stage businesses in Asia Pacific.
Launched in 2015 in Canada and now also in the US, Australia, New Zealand and UK, this visionary model is emerging as a leading global innovation that is totally unique. The New Zealand branch of SheEO.World was launched by renowned Kiwi businesswoman Theresa Gattung in 2017 and to date has raised over $1 million, through the radical generosity of women Activators. According to Theresa, SheEO NZ Ventures generated $11.9m in total revenue in 2020 in spite of the COVID pandemic.
Soda is searching for ambitious female entrepreneurs from around New Zealand to apply for its new seed grant competition - Rise Up - and be in to win $10,000. Sponsored by Callaghan Innovation, Wintec and Chow:Hill Architects, Rise Up is targeted at Kiwi female entrepreneurs - regardless of their age, where they live or how much business experience they have. The competition will culminate in a pitch night where the five finalists will pitch their business idea to a panel of high-profile judges. Runners-up will receive one-on-one mentoring with Soda's industry experts and the winner will receive $10,000 cash to help propel their business to the next level (applications close 10 June 2022)
The Women's Fund is a unique model of giving through Auckland Foundation, who seek to create positive change in the lives of Tāmaki Makaurau women by providing financial support to charitable organisations and programmes. The Women's Fund also make additional grants to organisations and initiatives focusing on girls and young women.
Capability Building (Leadership, Mentorship, Coaching, Training)


Academy for Women Entrepreneurs (AWE)
AWE is designed for women with an entrepreneurial spirit to provide them with the skills, resources, and networks needed to start and scale successful businesses using the "DreamBuilder" programme. AWE is a partnership between The Pacific Business Hub and The U.S. Embassy (NZ).
Co.OfWomen (Company of women) is a membership based success support organisation developed and led by experienced, successful leaders to champion success. They focus on advancing the goals and aspirations of female entrepreneurs through one on one, peer and large group formats.
EY Entrepreneurial Winning Women™ Asia-Pacific
The EY Entrepreneurial Winning Women™ Asia-Pacific programme is an evergreen executive leadership program designed for women with established businesses who are ready to scale operations and grow to become global market leaders. This executive leadership program identifies women entrepreneurs whose businesses show real potential to scale and helps them do it.
The business mentoring programme is aimed exclusively at social impact entrepreneurs who identify as LGBTQ women or non-binary people. The vision of She Starts Out is to create a space for these diverse entrepreneurs to flourish and grow, through a series of EY clinics specifically tailored for social impact businesses, as well as access to an EY business mentor for guidance and support.
GirlBoss New Zealand was founded with a single mission: To close the gender gap in Science, Technology, Engineering, Maths, and Leadership. They empower confident, resilient, future-ready, young women to lead and change the world. GirlBoss New Zealand is a network of 13,500 young women leading change in their communities. Their programmes have been implemented in over 100 schools nationwide.
Hire Her is a digital talent and jobs platform for women in New Zealand and Australia. Launched in April 2021, Hire Her has nearly 1,000 female freelancers and contractors registered on its site. It contributes $1 from every collaboration to non-profits which support women.
In August 2021, The Dream Collective and Amazon Web Service (AWS) launched "SheDares" in New Zealand to help address IT skills shortage and encourage women to consider a career in tech. SheDares is a free, online, interactive learning programme, which aims to inspire professional women to consider pursuing a career in the technology industry, and show them the pathways to entry.
The Women Fellowship - by Startmate
Women Fellowship is a two-month programme helping ambitious women find their dream job in a start-up. You'll get access to weekly events, 1-1 coaching and a powerful network to build your confidence, translate your skills and find your best fit in a start-up, and we're proud to be backing this programme.
The Women's Mentoring Programme AUT
The Women's Mentoring Programme at the Business School matches women business students with women working in business. Mentoring programmes can facilitate women's career development, as well as provide them with insights and information into organisational cultures at senior management levels.
C40 in partnership with the city of Auckland will contribute to the emergence of the next generation of climate leaders by sharing knowledge and experience through an ambitious mentorship programme dedicated to women in C40 cities. The C40 Auckland Women4Climate Mentorship Programme will match committed leaders from the business sector, international organisations, and community organisations with emerging women leaders.
Women Entrepreneurship Centre
Women Entrepreneurship Centre (WEC) is a not-for-profit organisation based in Auckland, working towards empowerment through inspiring, educating and entrepreneurial leadership. WEC's process in entrepreneurship and leadership involves awareness programmes, training, skills development, mentoring, business incubation, information sharing, networking and marketing assistance.
Women in Entrepreneurship
Announced in 2021, entrepreneur, businesswoman and feminist Theresa Gattung is funding $2.5 million into the university-based centre to foster women in entrepreneurship at the University of Auckland Business School. Apart from the academic side, Gattung wants the centre to teach much-needed practical skills; Women need to know how to launch a business, read a balance sheet, know what venture capital is and how to access it.
Women in Leadership Development (WILD) Programme.
The Women in Leadership Development (WILD) Programme tackles common barriers to career progression and sector retention faced by women employed in the STEM sector. Through a 6-month leadership course, the WILD programme provides Kiwi women in STEM with the qualifications, skills, confidence and networks needed to attain senior leadership and board positions. Brought to you by KiwiNet and Brandon Capital Partners.
AUT Women in Tech is currently led under Dr Mahsa Mohaghegh who aims to encourage and support women studying in STEM (Science, Engineering, Technology, and Mathematics) courses by helping them develop networking skills and succeed in their field of study. Their events are an open opportunity for all, regardless of background or gender, high school or professional.
Women on Boards New Zealand represents extraordinary women who want to continuously advance their governance careers. They support female directors through personal connections and sharing knowledge; enhance board composition by advocating for ethno-gender diversity; empower women to make an impact and celebrate success.
Community (advice, events, network, support)


Association for Women in the Sciences (AWIS)
AWIS is a global network that inspires bold leadership, research, and solutions that advance women in STEM, spark innovation, promote organisational success and drive systemic change. The association was founded in Wellington in 1985 and now has members throughout New Zealand, with branches in Otago, Christchurch, Nelson, Wellington, Manawatu, Waikato and Auckland.
Business and Professional Women
BPW connects and empowers women who aspire to do more. Their membership includes women in a variety of organisations – from small and medium sized businesses through to large corporations, and from the public and non-profit sectors, as well as women no longer in paid work, influential women leaders, young career women and savvy entrepreneurs running their own show.
MYOB helps to grow the number of female entrepreneurs by sharing authentic and actionable advice from other successful women in business and sport. They produce useful content, a range of resources which make a difference to women's businesses.
Electrify Aotearoa Conference
Electrify Aotearoa took place in May 2022 - a sell-out event hosted in Christchurch. Powered by Ministry of Awesome and Blackbird Ventures, and backed by us, this all-day conference aimed to encourage more ambitious Kiwi women to take the leap into start-ups, by showcasing women founders and operators at different stages of their journey with tales of courage and triumph.
Entrepreneurial Women with Purpose
Entrepreneurial Women with Purpose is focused on empowering, educating and inspiring women through a lens of purpose beyond profit and using the vehicle of business for the greater good of the world.
Girls in business is an organisation for business and career minded women to connect, up-skill, share experiences, get inspired and seek help growing their business empires and careers.
Global Women's mission is to catalyse New Zealand's social and economic success by championing diversity in leadership. Over 350 Global Women members, recognised for their ability to influence and impact, advocate for diversity, equality and leadership. Their Breakthrough Leaders and Activate leadership programmes have catapulted forwards the careers of over 400 women.
Manzana is a space for creative and tech women entrepreneurs and founders who are systemically underrepresented / underserved
New Zealand Business Women's Network
The New Zealand Business Women's Network is a group of over 1,300 Kiwi women that meet regularly, concentrating on inspiration, real relationship/network building and hosting awesome guest speakers.
NZTE organises an annual InvestHer Showcase with the goal of creating connections, raising the profile of some of New Zealand's women founders, whilst taking them through a rigorous process that builds their confidence and prepares them for raising capital.
She Owns It is a directory and coaching community for New Zealand women in business.
She# influences the next generation of leaders, doers and thinkers in STEM by showcasing strong female role models in the industry. They encourage young girls and women by showing them the importance and relevance of STEM career paths. She# partners with Google and Auckland University of Technology (AUT), who support women in the industry, driving diversity and inclusion in New Zealand and across the world.
TechWomen is a group of passionate New Zealand tech, digital and ICT focused individuals from leading organisations that work together, with the support of NZTech, to help address one of the major challenges for the successful growth of technology in New Zealand – a shortage of women in tech roles.
The Young Woman is a podcast for ambitious young women to be inspired, empowered and equipped with the personal development tools and game changing career advice needed to unlock their inner confidence and achieve, those big dreams.
The Young Women in Finance
The Young Women in Finance group (YWF) was established in 2015 as a networking mechanism for young women in finance-related roles by engaging and connecting with senior leaders. YWF members have the opportunity to access the Young Finance Professionals (YFP) benefits such as events and mentoring, in addition to events tailored to support their professional development.
Women Entrepreneur Network
The NZ Women Entrepreneur Network (WE Network) is a New Zealand women in business support network. Their mission is to inspire and empower Kiwi women to upscale their businesses.
Women in HealthTech (WHT) is a collaborative group representing the health-tech sector in New Zealand, providing a foundation of networks and leadership. The founding organisations are Digital Health Association (DHA), Consortium for Medical Device Technologies (CMDT) and Medical Technology Association of New Zealand (MTANZ).
Women in Leadership Summit presents a unique approach to invest in your leadership journey, unlock your true potential, and rediscover your resilience through multiple interactive sessions.
Women In Stem connects a range of women in STEM fields across New Zealand, all from different universities, background and upbringings.
This group (connect via Facebook) is here for women or those that identify as women to share resources, ideas, conversation, and education around all that is tech. They exist to support one another. Membership is only open to those who are living or working in New Zealand.
Since 2012, the Women Leaders Institute has developed a safe and supportive space for emerging and established women leaders to be inspired, grow and connect across Australia, New Zealand and Asia. They work with passion to inspire action and drive meaningful change in the communities to advance women in leadership.
The Women of Influence programme shares the remarkable stories of women who are making a difference to the lives of New Zealanders. Each year, it shines a light on the amazing work Kiwi women are doing, from a grassroots level to the global stage, and help propel our future leaders and rising stars to bigger and better things. Powered by Stuff and Westpac NZ.
Women Tech Founders Aotearoa
This is an inclusive community of women founders / entrepreneurs in tech in New Zealand. The purpose of this group is to bring a diverse group of women entrepreneurs in tech together, to share experiences, challenges, provide guidance, support and celebrate wins as we build our ventures (join via Facebook)
This content has been pulled together by our Senior Portfolio Manager, Molly Yang. If you provide a resource or support network for our women entrepreneurs and would like to be included in this list, please contact us HERE.
/

Recent News + Media

8 Nov 2023

New Zealand's tech start-up landscape overview co-produced with PWC and AANZ

/

13 Oct 2023

An overview of NZ's space-tech landscape and support available for Kiwi entrepreneurs.

/

18 Sep 2023

Three new directors have been appointed to our Board - Janice Fredric, Grant Straker, and Steve…