Early Stage Investment Series - Raising Capital workshop
/ Events / 12 Sep 2022 / Katie Hickmer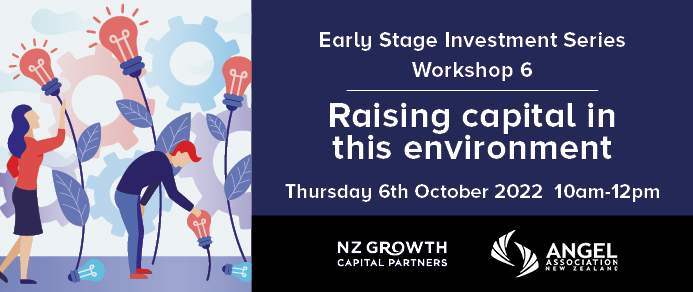 Raising capital in this environment - our 6th Early Stage Investment Series workshop co-hosted with AANZ.
Raising Capital in this environment can feel like a bit of a roller coaster with different views on how the market might react to the changing conditions. Markets aside, the process and strategy for raising capital should not change regardless of what market we are in.
In this session we will cover capital raising from pre-Seed to Seed and all the way through to Series A and beyond. We will inject into the discussion the importance of founders building a pipeline of investors and investors building a pipeline of companies, the importance of building and nurturing relationships and how you go about this in a value creating way. We will also explore what a deal needs to look like at each stage and particularly in the context of the changes have occurred in the macro environment over the last 6-12 months.
Come and hear from our wonderful line up of speakers including;
The details ...
Thursday 6th October 2022
Auckland venue is TBC.
Doors open at 9:30am with the moderated panel discussion kicking off at 10am and will conclude with a light lunch at 12pm. Come armed with your questions and comments to extract as much value as possible from the discussion in the room.
For those not in Auckland, we will be offering this session via Zoom as well but you will be in watching mode only as we won't be able to facilitate Q&A remotely.
Attendance is $50 + GST in person, or $40 + GST online.
/

Recent News + Media

8 Nov 2023

New Zealand's tech start-up landscape overview co-produced with PWC and AANZ

/

13 Oct 2023

An overview of NZ's space-tech landscape and support available for Kiwi entrepreneurs.

/

18 Sep 2023

Three new directors have been appointed to our Board - Janice Fredric, Grant Straker, and Steve…