Elevate NZ Venture Capital Pulse Check 2
/ Blog + Insights / Elevate / 14 Nov 2022 / Katie Hickmer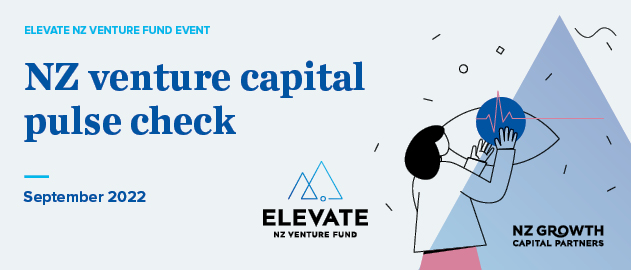 As our venture capital market continues to develop in New Zealand, it is important that our investors get together for regular check-ins to share learnings, challenges and wins so that we can work together to create a vibrant and self-sustaining early-stage investment ecosystem for our Kiwi entrepreneurs.
We recently hosted several venture capital fund managers for a 'NZ venture capital pulse check' and here are the key outputs ....
Overview:
As part of our Elevate fund update, James Pinner (our Chief Investment Officer) advised that we have now deployed $197 million into eight venture capital funds since Elevate's launch in 2020. You can view all details of these investments HERE on our website. Overall performance of the funds that Elevate has invested in is still too early to assess, but it is in line with our expectations of the stage of Elevate's life i.e., initial investments, less management fees, results in a slight negative performance but is expected to increase significantly as these investments mature.

The real benefit we are seeing is the amount of capital flowing through to these funds' portfolio companies which has had a meaningful impact to the amount of capital available at the Series A/B space in New Zealand. This has directly resulted in significant growth in a diverse set of exciting high-growth companies (highlighted further below). We have also seen a marked increase in overseas appetite to invest in some of these promising companies as New Zealand's start-up ecosystem has grown in profile internationally.

However, the last 6 months have seen a lot of wider market turmoil which has started to be seen in Aotearoa and we have seen a slow-down in investment activity (both at the fund level and for the wider start-up ecosystem). We don't feel that there is a need to panic – a lot of the funds have plenty of capital still to deploy, we have seen some funds continue to raise capital and the pipeline of companies coming through is still strong.

New Zealand now has the vast majority of the foundations in place to create a vibrant and successful start-up environment to create successful companies that will go on to become global successes and solve global problems. We do need to keep building capital, capability and diversity across all areas from start-ups and investors (both into funds and start-ups). This is not a time to take the foot off the accelerator, as doing so, may undo some of the strong progress that has been made. Now is the time to keep fueling and supporting the great work that everyone has been working on for the last 10+ years. We will be rewarded by amazing success to the benefit to the whole of Aotearoa and beyond.

We all acknowledge that the next 12 months will be difficult for a lot of companies and fund managers, but these are some of the best times to be investing, coming up with disruptive ideas and building innovative start-ups, and we have confidence that our Elevate fund is maturing well and through disciplined investment will come out of this downturn stronger.

From our point of view, whilst there has been a significant uplift in capital available to Kiwi start-ups, there is still a long, long way to go and we need to continue to build a broader investment base, increasing diversity and resilience, and continuing to grow to fund an ever-expanding pipeline of amazing founders and their companies.
Market Mood:
Despite what is going on internationally, and with the continued uncertainty and headwinds, the mood is still positive.


Success Stories:
All managers shared some of their success stories, and some of the most promising companies talked about include;
.. well done to these companies, you are achieving great things!
Market Highlights:
The Elevate Underlying Funds (those that have received Elevate funding to date) are generally happy with the investments that they have made and the speed of deployment
A number of portfolio companies are growing very well, and we have a strong pipeline of companies at the Series B+ stage, all making good progress internationally
Portfolio companies are being prepared for tough times ahead but no deep concerns yet
Collaboration amongst venture capital funds has been strong
Portfolio companies now have greater ability to push back on flipping into a US domicile
There is an increased overseas investor awareness of New Zealand opportunities
Market Challenges:
Overseas venture capital activity has significantly slowed down and is expected to be slow for the rest of the calendar year, although deals are still being done
The quantity of companies coming through is still strong, but the quality of pipeline is much less than the previous two years
We (investors and entrepreneurs) need to think bigger / be more ambitious – New Zealand is still greatly behind other markets in the level of ambition, self-belief, and the rate of growth, and it's a mindset thing. Investors need to encourage founders to be even more ambitious and knock back the tall poppy syndrome. However, in deep-tech, this issue is somewhat less pronounced as deep-tech founders are generally looking to solve very big problems
Raising money for funds is much tougher in the current environment
There is still very little institutional capital in this space and even fewer repeat investors
There are some quite aggressive terms sheets being written - a sign of slowing down from the more competitive domestic venture capital market we have seen over the last couple of years. We (Elevate) believe there is a balance to be had here, and investors need to be mindful about over dilution and to keep up the positive progress on more founder-friendly terms and thinking about the long game
Immigration is still a major roadblock to growth although the venture capital community welcomes the new Investor Migrant Programme which they see as critical. There was agreement that over the long-term we need to build more of the necessary skills domestically, but at the moment we need to bring in the necessary people from overseas, particularly with regard to experience in scaling large businesses
We also note the recommencement of the skilled migrant visa although it was noted that the start-up community need to work together better to clarify the talent gaps and clarify why bringing in external talent is so critical
Still roadblocks on commercialising research from CRIs and Universities – some are incentive driven. But also continued inconsistency of terms i.e. some universities seeking too much equity which makes investments un-investable from a venture capital perspective. It was noted that there is positive progress being made in this area since our Elevate NZ VC Pulse Check last year
Whilst remote working / meeting has shown benefits, VC's have seen mixed results and it is very role dependent - it certainly isn't a one size fits all.
What can we do better / what would help?
Calls for Callaghan grants to be revisited and work is still needed on R&D tax credits (primarily how R&D is defined) and ensuring the tax credits are applicable for start-ups
There is no substitute to selling or raising money in person, particularly in the US - founders need to get on the road
Greater clarity is needed on New Zealand tax treatment of overseas ESOPs
New Zealand employees still significantly under-value ESOPs, partially because there haven't been enough success cases here yet where employees have realised value from them
Working better to tell the start-up / tech story in New Zealand and get it to a wider audience, we have a lot to celebrate and can help transform Aotearoa for the better and solve some global problems
Increasing global connectivity and ambition – more trips like the recent NZTE USA roadshow to meet later stage investors and build strong connections between founders and domestic and overseas investors
Strong demand and need for a second Elevate vintage, the work is far from complete to achieve a sustainable New Zealand venture capital ecosystem.
Thank you to the following fund managers that joined us for this session;
Our intention is to hold our third Elevate NZ Venture Capital Pulse Check session in March 2023.
/

Recent News + Media

8 Nov 2023

New Zealand's tech start-up landscape overview co-produced with PWC and AANZ

/

13 Oct 2023

An overview of NZ's space-tech landscape and support available for Kiwi entrepreneurs.

/

18 Sep 2023

Three new directors have been appointed to our Board - Janice Fredric, Grant Straker, and Steve…