New Zealand Game Developers Conference 2023
/ Aspire / Blog + Insights / 13 Sep 2023 / Emil Schroder

Content piece written by Emil Schroder - Senior Investment Analyst
The recent NZGDC23 presented a fascinating view into the exciting growth sector of games which is blending the creative, the technical and the visionary, to create a distinctly Kiwi industry that is outperforming our geographical isolation.
From the chatter, smiles and excited hugs seen all around, you could easily wonder if everyone at Tākina already knew each other, or if it was just the sunshine that put everyone in a sociable mood. Wellington's new dazzling convention and exhibition centre begun its life by hosting the country's largest board game convention, and now games returned to fill the space with the buzz and beeps of an industry that is seeing a phenomenal increase in size, investment, and scope of ambition.
Digital games in New Zealand grew 47% from 2021 to 2022 and the NZGDA predict the industry to generate $1 billion for the economy by 2026. It outpaces the Australian games industry on a per capita basis by 6.8x for revenue and 2.7x for employment. Ever present in conversations, however, is the headwind of the Australian Digital Games Tax Offset which refunds 30% of a gaming studios development cost. This strong lure set has already claimed some Kiwi studios and workers, but the worst effects have been partially allayed by our government's recent announcement of its own 20% development cost rebate for gaming studios. This is a positive and necessary step to maintain competitiveness in this space, made more start-up friendly by the ability to claim on a six-monthly cadence.
At Tākina it was clear that this industry is not waiting around for official approval to bring fun to the world. This was a space where developers, artists, animators, designers, testers and all manner of other creative professionals came together to share and learn, building each other up and finding out how to best bring their vision to market. Nowhere was this better exemplified than the packed-out room listening to the founders of Black Salt Games, the creators of New Zealand indie breakout success Dredge. With standing room only, the audience listened attentively to hear how the team navigated the limits of budget and time to design a cozy horror fishing game that has delighted over 1 million fans so far. I am one of those fans, and having spent hours on my Switch catching and running from piscine abominations it was incredibly gratifying to hear first-hand of the thoughtfulness and effort that went into building the experience as well as the pride that the small team takes in their fantastic achievement.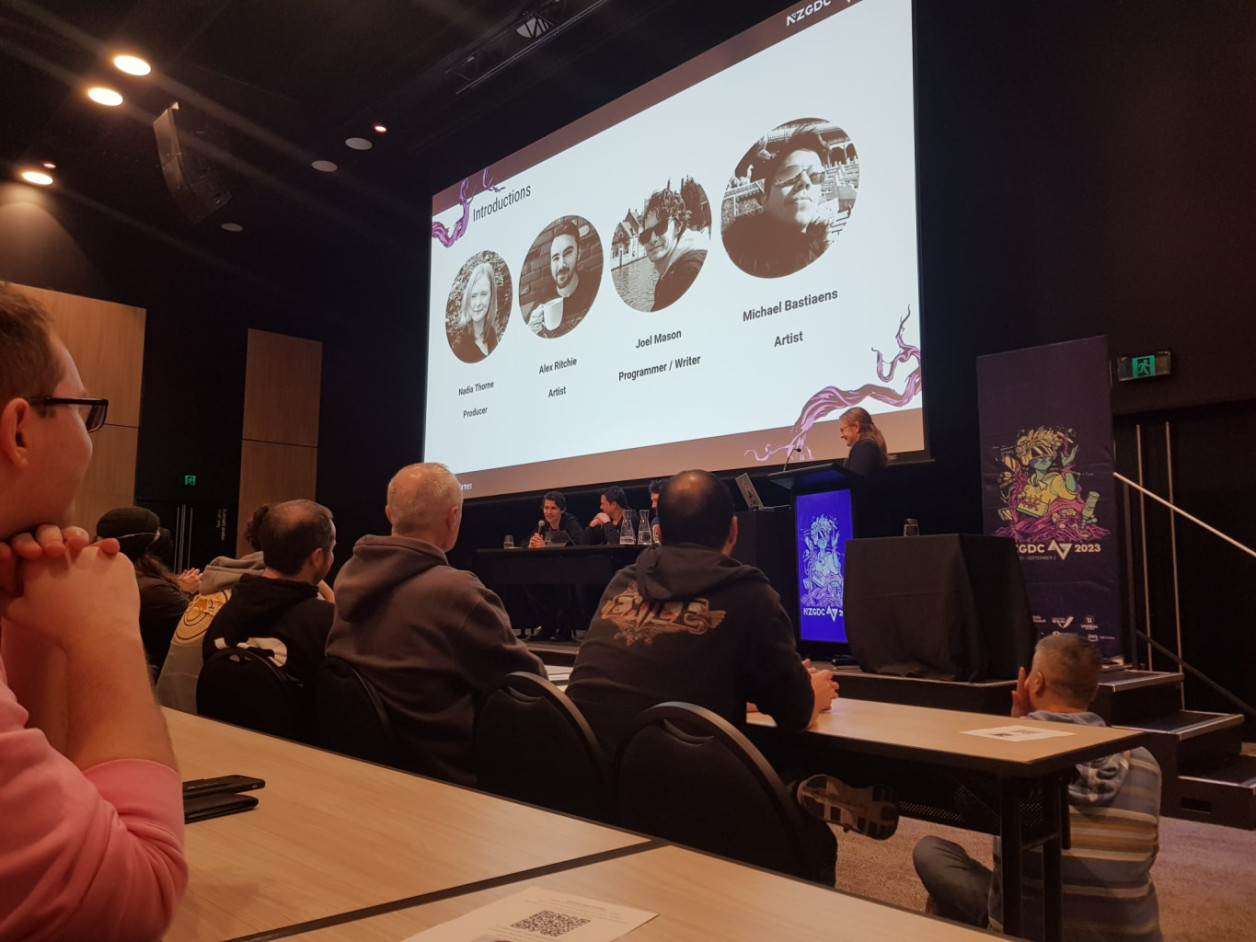 All conferences have common refrains, sentiment that carries from presentation to presentation across all disciplines. There were two reoccurring themes that ran through the day;
Talent shortages in the sector at the senior level. It feels every sector is experiencing a people shortage and for the relatively nascent industry of games, that shortage is concentrated at the senior level. While schools such as the Media Design School and the Southern Institute of Technology are working to build the base of new entrants, having people who have run the gambit before and know the tips, tricks and pitfalls of completing a game can refine a studio's focus and direction. We have seen this firsthand in the studios our Aspire seed fund has backed (Space Rock Games and Hashbane Interactive) which are attracting overseas senior talent on the back of their unique company culture and vision and being able to leverage their experience and expertise to navigate the sometimes-murky waters of game creation. As the industry continues to mature, we also hope to see an uptick in these seasoned professionals looking to set up new studios in order to pursue their life's work. This trend can already be seen in the likes of RiffRaff Games' founder Josh Boggs, and with the increased availability of funding from sources including venture capital, the Centre of Digital Excellence (CODE) and other grant programmes. This pathway is becoming more and more viable for studios with ambitious visions wanting to bring Kiwi games to millions worldwide.

The role of testing and its importance in a game's development cycle. Test early, test often and test with a wide variety of people was the clear message that came across. Quality assurance and user acceptance testing are crucial aspects of producing a loved game, though especially at the indie level, this comes at a cost which can be tough to bear given the tight budgets and timeframes. It is easy from outside of the creation process to underestimate the scale of this job where there are thousands of little moments which need to be accounted for lest immersion be broken. There is, of course, no silver bullet or fantastical piece of AI to overcome these constraints. Studios just need to identify costs and schedules, prioritise and then budget accordingly. However, testing was also identified as a great community engagement tool, identifying dedicated users and sourcing their feedback to build loyalty and superfans who could help out in other facets of the business-like marketing and promotion.
The biggest takeaway from NZGDC23...
Was the sense of optimism about the future of this industry. Established studios like PikPok and Dinosaur Polo Club are thriving; people are excited about making quality games; and MBIE are now in charge of muting the existential threat to the industry that the Australian tax scheme posed. Though our geographical isolation is a challenge in some respects, digital distribution through established platforms means that it is not an issue to getting our games into the hands of players worldwide.
Finally, the investment landscape is looking more buoyant than it ever has evidenced by the national rollout of the CODE funding programme and the jam-packed room at the Hillfarrance Future Play mixer. Through our own Aspire seed fund, we are looking to help more investors join in on the action by investing in this exciting but underappreciated sector.
Where to from here for games?
Anticipated to generate revenues in excess of $319 billion worldwide in 2023, the global games market is a behemoth. New Zealand is outperforming the limitations imposed by our geography, population size, and sector maturity, already seeing multiple exits above $100 million. Games is an electrifying sector and certainly one to watch and get involved in as it continues to progress. Our Aspire seed fund (direct investment into early-stage start-ups) recognises this position and since 2021 has made five investments into exciting gaming studios including Beyond, Space Rock Games, November Games, Hashbane Interactive and RiffRaff Games.
We are keen to continue to back Kiwi studios who have superscale ambitions for the games they are creating and bringing to the world. If this sounds like you, and you would like to learn more about the venture funding path, please get in touch with me as I have a particular interest in the sector and would be happy to chat: emil.schroder@nzgcp.co.nz
/

Recent News + Media

8 Nov 2023

New Zealand's tech start-up landscape overview co-produced with PWC and AANZ

/

13 Oct 2023

An overview of NZ's space-tech landscape and support available for Kiwi entrepreneurs.

/

18 Sep 2023

Three new directors have been appointed to our Board - Janice Fredric, Grant Straker, and Steve…